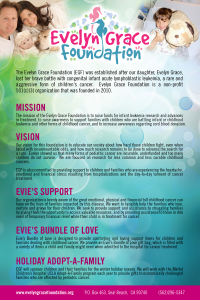 Evelyn Grace Foundation is a non-profit 501(c)(3) organization founded in 2010.  The mission of the Evelyn Grace Foundation is to raise funds for infant leukemia research and advances in treatment, to raise awareness to support families with children who are battling infant or childhood leukemia and other forms of childhood cancer, and to increase awareness regarding cord blood donation.
Most people are unaware of the number of cancers that affect our children. On the average, 46 children and adolescents are diagnosed with cancer every day in the U.S. Every 3-1/2 minutes a child is diagnosed with cancer. Although strides have been made, survival rates remain very low for many of these cancers. Due to Evelyn's age and type of leukemia at diagnosis, her chance of survival was only approximately 20%. Following relapse, her survival was greatly decreased to almost nonexistent, yet we held on to hope for a miracle. Our vision for this foundation is to educate our society about how hard these children fight, even when faced with insurmountable odds, and how much research remains to be done to advance the search for a cure.
The Evelyn Grace Foundation (EGF) was established after our daughter, Evelyn lost her brave battle with congenital infant acute lymphoblastic leukemia, a rare and aggressive form of children's cancer.
For 5 months, Evelyn fought and inspired us all to live every moment to it's fullest. Though Evelyn's battle with leukemia ended last year – we will fight on in her honor until the day every child is guaranteed a cure. It's one of the many things we learned from Evelyn.  Our experience in the trenches fighting along side Evelyn showed us that many forms of pediatric cancer are incurable, underfunded and too many children do not survive.
We are focused on research for less common and less curable childhood cancers.  Evelyn's cancer- congenital acute lymphoblastic leukemia, sadly there is little research and few treatment options.  Infant leukemia is particularly aggressive and frequently fatal.  We want to bring awareness and assistance to the 20% of children for whom standard protocol chemotherapy and radiation is not successful.
There is promising research which sequences genes in leukemia cells to identify molecules to target therapy.   Gene targeted therapies are less toxic than traditional treatment, it is also more effective because it targets the source of the cancer and does not compromise the rest of the body by eliminating the immune system.  It is our hope that this research will bring scientist one step closer to a cure for infant leukemia. It is our goal to get researchers the funding they need to advance these studies.
Through The Evelyn Grace Foundation we facilitate grassroots fundraising for pediatric cancer research and draw attention to the challenges these brave children and their families face every day in treatment.
We are dedicated to raising awareness that infants and children get cancer too and that families need help navigating what will be the most difficult journey of their lives.  EGF is committed to providing support to children and families who are experiencing the heartache, emotional and financial stress resulting from hospitalizations and the day-to-day torment of cancer treatment.
We are passionately focused on increasing awareness of infant leukemia and accelerating research towards a cure.