C4C is proud to feature Lisa Conrad of Manhattan Beach, California as our Athlete of the Quarter! Lisa is not only an accomplished competitive cyclist, but also a philanthropist, wife, and mother extraordinaire.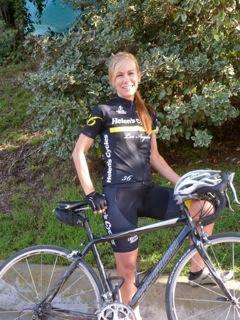 Despite tagging herself a "competitive amateur" of cycling, Lisa certainly pedals amongst the pros. A rider whose fortes are distance and climbing, she bikes to great heights in events such as L'Etape du California, a race beginning in Claremont, California and ending at the top of Mount Baldy at approximately 6,500 feet. Of 1,400 riders (1,000 of whom finished), Lisa was one of only 75 women to ride. As if that weren't enough to boast (although her humility wouldn't allow it), Lisa took third place in two of the climbs (in her age category) and finished 12th overall in the women's category —a mighty feat for someone who began cycling only a few short years ago!
Lisa recounts her quick ascent to competitive cycling. Having ridden mountain bikes before her children were born, she relinquished the hobby due to its inherent risks. After her third child, in effort to get back into shape, she began spinning. Then, on her 40th birthday, she bought herself a bike, and with a group of girl friends, set a goal to complete a century ride (distance rides of 100+ miles). Soon after, feeling driven to a greater challenge, she began to ride and compete with groups of professional men cyclists. Well, it wasn't only Lisa who would feel more deeply challenged. Her athleticism quickly earned her profound and lasting respect from those men, warranting comments such as "Hey, I'm a marine. You're making me look bad!"
So, what motivates Lisa to have achieved such tremendous accomplishments in such a short time? What spins her wheels, so to speak? In speaking with her, it is not only her natural athleticism and competitive drive, but also a palpable passion for biking that puts her gears in motion.
Deeming it her "healthy addiction," Lisa whimsically expounds that not a single day goes by when she doesn't desire to be on a bike. "Once you get it in your blood, it doesn't go away," she explains. She continues to marvel that biking is something one can do alone or with a group, competitively or gently, and into old age or during childhood. She recalls, nostalgically, "I always loved being on a bike. It allows a certain amount of freedom. As a child, I could go anywhere on a bike. There's a solitude to it."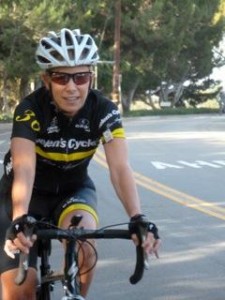 In contrast to that solitude, however, Lisa reaches out to the community as an Advisory Board Member for the growing non-profit organization, Grades of Green. An organization born out of Grandview Elementary in Manhattan Beach, Grades of Green seeks to educate and inspire children and school communities to be better stewards of the environment. The organization also offers tools and activities that are accessible online so that any school can implement initiatives to promote environmental conservation and awareness. Visit www.gradesofgreen.org for more information. She has received many honors for her philanthropic work; most recently a group called VOICE honored Lisa with the award of "Environmental Hero" on Earth Day 2011. Additionally, Lisa has received Commendations from the County of LA, California State Legislature and the City of MB on the same day.
Finally, an even greater pride to our feature athlete and philanthropist is her family. Lisa and her husband, Michael, raise daughters Kayleigh and Jordan (ages 13 and 9, respectively) and son Jack (11).
Lisa Conrad—the accomplished cyclist, dedicated philanthropist, mother, wife, and inspiration to all. When asked what advice or encouragement she has for those aspiring for a healthier lifestyle, she suggests, "Get outside. Do SOMETHING and do it with friends. Set a goal as something fun to do together, and you'll be amazed."
Congratulations Lisa, and thank you for promoting "Healthy Living…Healthy Giving"!