OUR MISSION:
Compete 4 Causes (C4C) is dedicated to raising support and public awareness for Charitable Causes while promoting Fitness & Wellness. We are committed to helping charities achieve growth and success while innovatively improving the quality of life for individuals through a healthy and fit lifestyle.
"Healthy Living…Healthy Giving"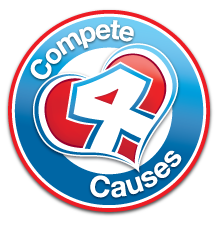 ABOUT US:
Compete 4 Causes (C4C) is a nonprofit organization that supports Causes and Charities.  By promoting the spirit of giving, we achieve mission driven results.  We are committed to helping our society achieve positive growth and success, through innovative efforts that promote a healthy and fit lifestyle.
C4C was conceived in 2007, but meticulous thought and preparation was given to properly launch in 2011.  C4C is quickly becoming a well-established nonprofit organization that inspires personal growth, community integration and financial support for underprivileged organizations and individuals.  Countless events and achievements have shaped the development of our organization and helped to change the lives of everyone involved.
C4C desires to give back to their communities and to better the lives of the people.  Through joint efforts from individuals, groups, and corporations, C4C continues to empower children, families and organizations to achieve lifelong success.  Compete 4 Causes (C4C) is committed to improving and building a strong foundation for the future.
"Help others while helping yourself"
OUR VISION:
C4C is an innovative creation of two concepts, assisting Charitable Causes while encouraging personal Fitness & Wellness.  Our main objectives are to raise public awareness and support for Causes and to provide a valuable community resource that benefits the mind, body, and spirit.
The Vision of Compete 4 Causes (C4C) is to recognize the needs of Charitable Causes and provide support by creating a medium for raising awareness while positively impacting the health and well being of everyone involved.  C4C encourages everyone to open their minds and hearts to new possibilities.  Our goal is to pair causes together with healthy initiatives to build a strong and lasting foundation for a better tomorrow.
Compete 4 Causes (C4C) has created a medium where information, resources, links, and discussion forums are used to encourage a healthy and positive lifestyle.  Additionally, C4C has developed a "Select Your Cause" program whereby Participants can "Compete 4 Their Cause" and Donors can "Select Their Cause".  With everyone's support, C4C generates real and lasting change through this "Select Your Cause" program.
"What's Your Cause?"
GET INVOLVED…
Get more involved with Compete 4 Causes (C4C) by volunteering, donating, and spreading the word.  Become more intimately involved with local charities, organizations, and foundations by introducing C4C as a means to a brighter future.  Stay connected and informed by joining us on Facebook & Twitter and encouraging others to do the same.
C4C raises 100% of its funding from the generosity of the community through fundraising events, individual contributions, corporate donations, and sponsorships.  In addition to monetary contributions, volunteers play an active role in our success.  By encouraging the spirit of giving while promoting healthy competition, we're able to achieve mission driven results.
Unite with C4C to be part of an exciting and fast paced atmosphere.  We value our volunteers, partners, sponsors, and liaisons.  We are committed to creating a positive working relationship by offering a healthy and fun environment, while working as a team and providing the support needed to be successful.
Make a difference and get involved, contact us today at info@Compete4Causes.org.