Visit Rising Star Outreach to learn more about their cause and how you can give or volunteer!
People who have contracted leprosy must often spend their lives completely isolated from society, although they may have been cured.
They, and members of their families, sometimes find it impossible to marry, receive education or find work. An estimated 100 million people worldwide are victims of this discrimination. In India there are over 700 "leprosy colonies" where the stigma of leprosy is inevitably perpetuated.
If caught early enough, Leprosy can be stopped before it ravages a body and ruins a life.
We are accomplishing this through four major initiatives:
Economic rehabilitation through micro-lending.

Providing medical care through mobile medical clinics.

Educating children; providing opportunities to become productive citizens.

Creating life-long humanitarians by providing service opportunities for volunteers.
History of Rising Star Outreach
While visiting India in 2000, our founder observed a depth of suffering that was palpable. She witnessed human beings in deplorable conditions. Worst of all were the Leprosy beggars, who would approach her at every stop begging for help.
When she returned to the United States, she was so haunted by those images that she knew she had to act. She called four close friends, and around her kitchen table they quietly formed Rising Star Outreach. It was incorporated and received its 501(c)(3) tax-free status in March 2002. Their mission, as it was originally defined, was to provide loving homes and much needed educational opportunities for some of the needy children in India.
After a few years of supporting other organizations, the first official Rising Star Outreach children's home was rented and opened in April of 2004 with 27 children from the Leprosy colonies.
The success of the home was stunning, and in 2005 a second childrens home was rented and opened for 32 additional colony kids. Now officially recognized by the Indian government, Rising Star has been commended for the high standard of care and excellence maintained in the school as the children prepare to enter mainstream society.
As word got out among the Leprosy colonies of the Rising Star Outreach childrens homes, the waiting list began to grow until it became clear that there was a significant need for a permanent facility. In November 2005 Rising Star purchased 13.5 acres of land, following an eighteen-month search. In October of 2006, construction began on a permanent school for the children. The property will also house a childrens village, composed of several small homes in which the children will live until the age of 18. The first phase is estimated for completion in June of 2007 and construction of the entire campus scheduled to be completed by December 2008.
While Rising Star was happy to have finally found a way to successfully care for the children of Leprosy victims, the suffering of their families who remained behind in the colonies could not be ignored. The school director had began taking rice and beans out to the colonies each month in order to provide them with basic sustenance. This, however, was only a temporary solution, and Rising Star recognized the need to help the people learn to provide for themselves. That goal was realized in June of 2003, when they met Padma Venkataraman while working in the colonies.
The daughter of India's former president, Padma was already well-known throughout India for her pioneering work facilitating micro-finance projects in Leprosy colonies. By providing small loans (usually around $15-20 US dollars) people were able to purchase equipment and supplies necessary to begin their own small business. Having just completed a successful five-year project with DANITA, Padma was thrilled to partner with Rising Star to continue her work helping Leprosy victims. For the first time in known history, those afflicted with Leprosy were provided with a viable alternative to begging and were rising above the stigma of their disease.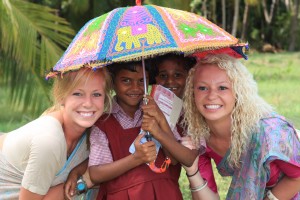 As the colonies began to improve their economic situation, the primary challenge they faced was the lack of consistent medical care. Access to hospitals was difficult, both logistically and due to the social stigma. Rising Star Outreach responded to this problem with the initiation of a Mobile Medical Unit in March 2005. Finally, severely deformed Leprosy victims' problem of being unable to leave the colony for adequate medical care was resolved. Run completely by a team of excellent Indian doctors, the unit travels to the colonies and provides leprosy screening, medicines for treatment, wound and ulcer care, and medical treatment for non-leprosy related ailments such as TB, typhoid fever, and diabetes.
By the end of 2004 it became clear that the organization in the United States had grown large enough to require the management of a professional staff and Rising Star hired its first Executive Director, followed by a dedicated staff both paid and volunteer.
Rising Star Outreach has now grown into a nationally recognized force in the fight against Leprosy. They have clarified their mission to focus on one specific objective: to help the Leprosy colonies become thriving, self-sufficient communities.
To accomplish this, Rising Star continually builds on their three basic initiatives.
To teach the children from the colonies pride in their Indian heritage and to provide them tools necessary to break the generational cycle of dependence on society and instead become productive members of that society.
To encourage ostracized families to work toward independence by providing loans for small businesses and structural improvements.
To address the physical ravages of Leprosy's bitter attack and screen for new cases through mobile medical units.
The success of Rising Star Outreach to date has truly been a miracle. It is one that they attribute completely to the kindness and generosity of concerned people all over the world and the loving hand of God.